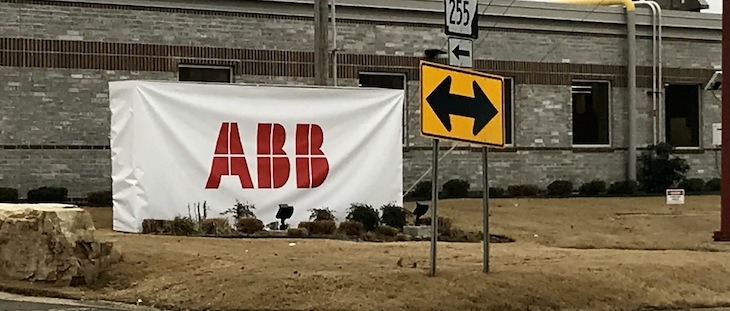 FORT SMITH (KFSM) — Evidence of Baldor Electric Co. being a brand and company name based in Fort Smith will in the near future be found at the Fort Smith Museum of History. ABB announced Tuesday (Feb. 27) it will drop the Baldor name and unify all properties under the ABB moniker, Talk Business & Politics reports.
The change, according to Zurich, Switzerland-based ABB, is to begin March 1, although there was no visible Baldor signage remaining as of Feb. 27 at what was once Baldor headquarters in Fort Smith. Baldor was founded in St. Louis in 1920 and moved its corporate headquarters to Fort Smith in the early 1960's.
"This represents yet another great step in building a market-focused, lean organization and unifying the ABB brand across the globe," Sami Atiya, president of ABB's Robotics and Motion division, which includes the organization currently known as Baldor, said in a statement. "With aligning all of our activities under the ABB brand we are delivering on our Next Level Strategy to unlock value by streamlining and strengthening our portfolio,"
TB&P reports
.
The company will continue to operate the 15 manufacturing sites once under the Baldor name.
"The organization will continue to support ABB's entire U.S. motors and generators business unit, including ABB branded IEC motors, large AC motors, generators and related services from the motors, generators and mechanical business headquarters in Fort Smith, Arkansas," the company noted in the statement.
According to ABB, beginning March 1, the ABB brand will be used with all Baldor Electric Company's manufacturing, sales and support facilities, box designs and marketing collateral, invoices and purchase orders, and trade show booths at GEAPS, AGG1, EASA & the Permian Basin Oil Show, TB&P reports.
Prior to being acquired in early 2011 by ABB in a $4.2 billion deal, Fort Smith-based Baldor employed between 7,000 and 7,500 in 26 plants in five countries and sales offices serving more than 80 countries. About 2,000 were then employed in the Fort Smith area. The company was also publicly traded on the New York Stock Exchange under the BEZ ticker.
ABB operates in more than 100 countries and employs an estimated 135,000 people.
'THINGS CHANGE'
Leisa Gramlich, executive director of the Fort Smith Museum of History, said someone with Baldor recently brought the museum a large Baldor sign. The museum also has one of the first computers used by Baldor. Both items are to be used in a "20th Century" exhibit set to open in 2019, Gramlich told TB&P reports.
"We are preserving all that (sign and computer). And yes, that's something we want to keep around because it's an important company … an important part of this city," she said.
Although excited about having the two Baldor items, Gramlich said she is sad to see the Baldor name no longer in use.
"I always hate to see that. We do have our long time businesses like Weldon, Williams & Lick, and First National Bank. … And Newton's (Jewelers) has been here a long time, too," Gramlich said. "But you do realize that things change and move forward and so we are here to preserve it."
Fort Smith Mayor Sandy Sanders said the good news is that the jobs are staying.
"I guess in a way it is kind of bittersweet. It has been a long, long term name that everyone in Fort Smith is familiar with. … I hate to see the name go, but the jobs are still there and the company is still there. I'd much prefer to see a name change than to lose production," he said.
The Mayor also likened the move to when Westark Community College became the University of Arkansas at Fort Smith, noting that it took several years before UAFS sounded normal, TB&P reports.
"Some of us old folks will sometimes still call it Westark. … It's just part of the vernacular, and I suspect it will be that way with (Baldor)."